Here are some views of the interior of Casa Amar –
Sala y Comedor
Casa Amar is filled with a mixture of wicker & wooden furniture, complemented by a showcase of different types of Philippine art pieces – including tapestries from Vigan and Basilan, handicraft from different regions of the country, and paintings by reputable local artists.
Most of the wooden furniture in Casa Amar have been custom-made for its owners.
Entertaiment Center and Sofa Bed
The Entertainment Center is close to the window of the common room. It is equipped with a TV and DVD player, an audio component system, and a selection of movies for you to enjoy. Across the room from the TV-Armoire is the sofa bed. A pull-out bed below the sofa provides additional sleeping space.
Antique glass bottles from Bohol adorn the spacious window in the common area, which overlooks a portion of the Marikina River and Ortigas Center. The windows of Casa Amar provide a breath-taking view of the city lights in the evening.
A telephone table beside the sofa bed doubles as desk space. The wi-fi connection is located in this area.
Kitchen and Laundry Facilities
Everything you need for quick cooking and simple entertainment is available in our kitchen. Aside from cooking appliances, we provide cutlery, plates, glasses and table linen for the use of our clients and their guests. Just remember – the condominium rules discourage too much noise and boisterous behavior which may disturb the other occupants on this floor.
A full cycle washing machine and automatic clothes dryer are installed in the laundry area. Clothes lines, an iron and ironing board are provided for the client's own use.
Olympic Heights also has an emergency power outlet in the kitchen. We will point it out to you when you arrive….
Bedroom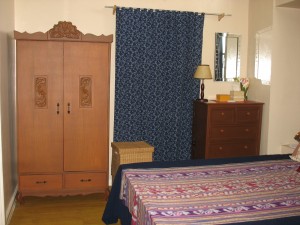 The bedroom faces east for good fung shui, but is shielded from direct sunlight by thick drapes, for the benefit of those who wish to sleep longer during the day. A spacious aparador (clothes cabinet) has ample room for clothes and shoes.
A small cashbox with a safety lock is found in the closet, to secure your cash, passport and other small documents. (Please remember to keep the box open when you leave!)
A narra chest of drawers provides additional space for personal effects.
Bed and bathroom linen are supplied for free to short-stay clients. Recently, we installed an emergency lamp for any unexpected "brown-out" or power failure.  To keep you comfortable, we have installed two air-conditioning units in Casa Amar – one for the common area and another for the bedroom. There is also a water heater in the bathroom, so that you can enjoy a hot bath whenever you want it.